Emmy Awards Red Carpet Fashion
Emmy Awards; Red Carpet Fashion
It goes without saying, one of our all-time favorite pastimes is watching top-tier celebs take charge of the red carpet. To see these stars sparkle in head-to-toe glamour equals good times for everyone involved. And this years Emmy Awards did not disappoint. The pre-show red carpet featured a parade of A-list ladies who brought it to flaunt it. Hello bombshells! With countless form-fitting silhouettes and plunging necklines to boot, the red carpet fashion said it loud and clear, sexy is back! Channeling a bit of Old Hollywood glamour with modern starlet appeal our best dressed of the night wowed us with pure delight. Here are our winners for the Emmy Awards red carpet fashion.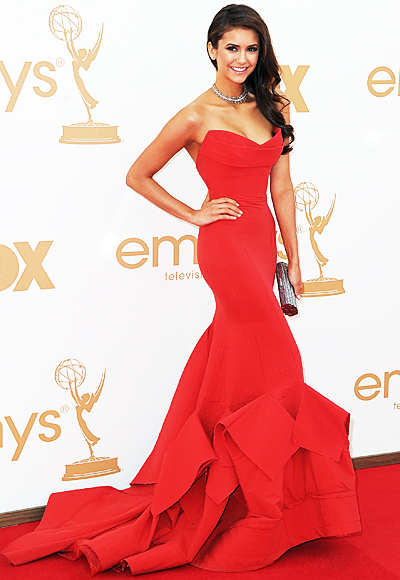 Image source: instyle.com
Nina Dobrev killed it! She hit spot on perfection with the red strapless mermaid gown. Ladies, take note (and that includes you Katie Holmes) this is exactly how a Hollywood star should look at an awards show. Immaculate fit…check! Diamonds encrusted with more diamonds on a necklace…check!  Chic side sweep of the hair…check! Hold it all together petite clutch…check! Try it yourself with this
evening gown by Nika
. Don't forget to bauble it up with a gorgeous choker and finish it off with a
silver clutch
. Red carpet ready you are.
Sophia Vergara plays sultry siren with ease. Her hourglass figure, luxurious locks of hair, and come hither accent set the perfect foundation for total
va va voom
. At the Emmy's she chose to accentuate these features with a touch of class. The Vera Wang coral gown brought sophisticated elegance to her vixen-esque stature. Though the emerald earrings were a bit over-the-top, they tied in her Columbian roots. If you're looking to amp up the allure for your next evening event, choose this
asymmetrical gown by Gigi
. Skip the oversized earrings and opt for a stellar cuff. You will need to-die-for heels to complete the look. Sizzling, seductive and stylin'! 
Okay, we realize we've seen
this dress
before. But who would've thought that the simple addition of a cap sleeve, and a soft wave of the hair could bring it to life? Well that's exactly what happened! Hilary Swank wore this Elie Saab last June for the Indian Film Academy Awards, but on the Emmy's red carpet Evan Rachel Wood worked the gown in true Hollywood fashion. So sleek, so sparkly—we're choosing seconds on this one! Ready for your own remake? Try this
glittery gown by Mon Cheri Montage
, add a cocktail ring then strike a pose—you're it!