Here She Comes, The Mother Of The Bride
It's official. We've been completely swept away by the Royal Wedding. Our day-to-day affairs are on constant pause to indulge in the modern fairy tale otherwise known as real life for Kate Middleton and Prince William. We were totally enamored by the true love that radiated from the newlyweds. But now we'd like to take a moment for Carole Middleton, simply gorgeous, as she watched her daughter transform into a princess.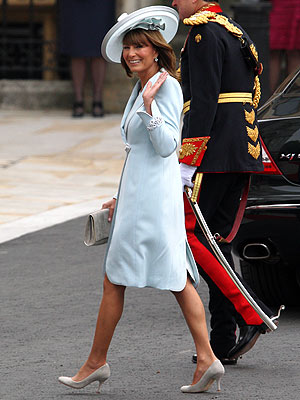 Image source: People.com
Carole Middleton is perfect for her role as MOB. Recognizing the importance of her dress, she exhibited royal behavior just prior to the big day. A dispute with couturier Lindka Cierach led to a change in designers, and resulted in the sky blue silk day dress by Catherine Walker, a favorite designer of Princess Diana. Her decision to make the last minute switch brought her right on par for a Royal Wedding. The sky blue matched her skin tone, and the entire ensemble exuded poise and elegance. Oh, let us not forget the hat; it wouldn't be a Royal Wedding without the fancy hats! Mrs. Middleton went with a wide brim variation that read first class all the way.
No Royal Wedding on the calendar? Us either. But that doesn't belittle the fact that baby girl is getting married! As MOB, you must support and complement your daughter, and look fabulous the entire time! There will be plenty of eyes on you that day. There's the walk down the aisle, perhaps you're standing on the altar, and don't forget the thousands of pictures that will circulate forever. MOBs need to look their best, and feel even better. 
As MOB, you do need to keep a few things in mind when selecting your dress. First, is color. At the Royal Wedding, Queen Elizabeth wore yellow clearly declaring her supremacy over the family. The rest of the women wore neutrals as not to compete. Do consider what the wedding party is wearing. And definitely consult with the bride for her suggestions. If the bridal party is wearing lilac you could choose a deeper shade of plum such as this
tulip tiered gown by Jovani
. If purple doesn't flatter your skin tone then go with something more neutral, such as this
Daymor mini-dress
.
Next you'll need to consider what time the wedding will take place. If it's an evening event, you're going to have to take it up a notch in opulence. We love the understated elegance of this
mother of the bride dress
. It's ripe for bold sparkly jewels!
If it's an afternoon affair, no need to sacrifice high style. Choose a
chic suit
or a smart
knee length dress
. Either way, you're playing the role of MOB with sheer sophistication as you walk the aisle with grace.