Rihanna, Pop Diva & Style Queen
Rihanna is considered a style icon by many, and it's easy to see why. She's bold, daring, brimming with confidence, and always exudes sexiness. And like Madonna, she knows how to reinvent herself, which is key to staying in the center of the spotlight. Since stepping on to the music scene in 2005, Rihanna's look has constantly changed, flowing with various trends, pushing boundaries, and breaking into uncharted fashion frontiers. All this change is good for you because it means you have a lot to work with when creating your own Rihanna look.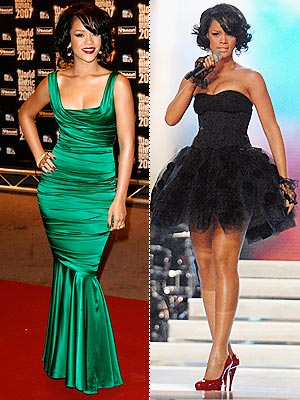 Image source: People.com
Take a look at the above photo, and you'll see two different sides of this darling diva: old Hollywood glamorous and fun 'n' flirty cocktail bombshell. To wax glamour like her, try a sultry mermaid gown like this
one by Jovani
 with added bust embellishments and a cute cut-out back. But if short and sweet is more of what your after,
this Janique dress
 has that perfect pop-star pizazz to heat up your evening.
Another dress that can help you channel the Rihanna style is
Gigi 16529
. At the 2011 BRIT awards this past February, she had a
very similar dress
.  Both dresses have a unique and bold style, a fun pattern, and an asymmetrical hemline that's bouncy, dancy, and fun.  Every girl deserves to be a diva once in a while, and this dress will definitely let you achieve that a la your favorite nonstop pop star.
Remember that with Rihanna, it's not just the dress; it's the shoes, too. As you can see in the picture above, when she wore the black cocktail dress, she paired it with some stunning red stilettos for a look that went POP! Even as she was walking down the red carpet to the 2009 MTV Video Music Awards, she was wearing some striking heels. So as your planning the whole ensemble for the night, be sure to find an
amazing pair of shoes
to go along with the dress. 
Finally, when you walk into the room, make sure to walk in like your the main event. Rihanna says in one her song, "hey baby, I'm a rockstar," and you should have that confident attitude as well. Then, you'll really be in full Rihanna form.